Argenta Bank- en Verzekeringsgroep (Argenta Group) provides retail financial services for families in Belgium and the Netherlands, through Argenta Spaarbank (banking) and Argenta Assuranties (insurance).
Founded in 1956, Argenta is today Belgian's fifth largest banking institution by customer deposits, with over 1.7 million customers. Its product offering, focused on simplicity and long-term relationships of trust with its family clients, is built on four pillars: savings, lending, insurance and investments. The group operates in Belgium through an extensive network of local self-employed tied agents.
Argenta wants to assist families and individuals in living financially healthy lives, in a simple, honest and close-at-hand way.
Argenta wants to achieve this mission with respect for the core values that have marked Argenta's strategy and corporate culture from the outset:
Simple, 'no frills'
Clean & honest
Human and close-at-hand
Enterprising and independent
Future-oriented and secure
Argenta wants to be a strong and independent bank-insurer with an excellent customer service and lasting relationships with its shareholders, self-employed distribution partners, employees and suppliers.
Argenta wants to be a secure and stable bank-insurer with a sound risk and investment policy focused on sustainability. Secure and stable means, in addition to strong capital and liquidity ratios, that the current rapid digitization goes hand-in-hand with the necessary protection of personal and other data.
In Belgium, Argenta wants to be human and close-at-hand through its self-employed distribution partners but also digitally with a range of retail banking and insurance products tailored to individuals and families.
In the Netherlands, distribution takes place digitally and through independent distribution channels, with a focus on savings and housing loans.
In Luxembourg, Argenta manages investment funds.
Towards customers - financially healthy living
Argenta wants to assist individuals and families in living financially healthy lives both today and in the long term. Each customer is entitled to a basic package of services consisting of internet banking and a high degree of self-service. Payment services and securities custody are free. Additionally Argenta offers simple, honest and attractive mortgage lending, savings and insurance solutions that give excellent value for money.
Towards Argenta employees - healthy growth
Argenta wants to be an inspiring environment for its employees. Argenta encourages and supports them in developing their skills and in their personal growth. Each Argenta employee is encouraged to pursue four core competencies: collaboration, customer and result-oriented working, and self-development.
For a healthy and sustainable organization
Argenta wants to implement this strategy through an efficient, lightweight and flexible business organization with a continuous focus on process excellence.
Digitization makes up a substantial part of this business model. Digitally reliable solutions represent at once a challenge and an opportunity to better fulfil our mission. This must not, though, prevent Argenta from remaining accessible, human and close-at-hand.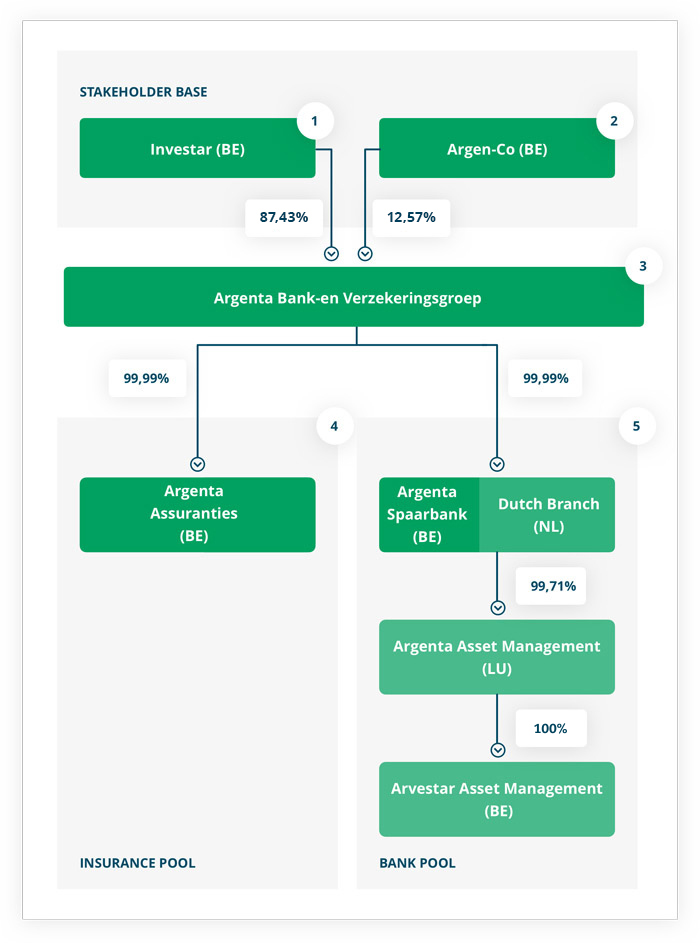 1. Investar nv
A mixed financial holding: core Belgian founding family shareholder with a long term investment view and independent from other financial groups
2. Argen-Co cvba

Issuer of cooperative capital held by around 67,000 cooperative shareholders (employees and clients)
The by-laws of Argen-Co were amended in 2015 in order to enhance independence from Argenta (i.e. Board of Directors)
3. Argenta Bank- en Verzekeringsgroep nv
A mixed financial holding: performs group control functions ( Internal Audit, Compliance, Risk Management) and provides group services: Human Resources, Facilities, etc.
4. A bank pool with Argenta Spaarbank nv as the main entity, and
Dutch Branch Argenta Spaarbank Bijkantoor Nederland
Luxembourg funds management subsidiary Argenta Asset Management sa whose activity is limited to funds management
Belgium funds management subsidiary Arvestar Asset Management sa whose activity is limited to funds management
Argenta Spaarbank is the debt issuing entity of the group
5. An insurance pool, with the Belgian Argenta Assuranties nv as the main entity, and

Dutch Branch Argenta Assuranties Bijkantoor Nederland
1956 - Foundation of Argenta
Argenta was founded by Karel Van Rompuy as a company specializing in offering personal loans. Until today, the Van Rompuy family is still the majority shareholder.
The establishment of Argenta Spaarbank nv enables Argenta to offer saving accounts. This moment also marks the start of the distribution network of independent agents.
1974 - Argenta Assuranties
Argenta Assuranties nv was established, enabling Argenta to offer life and fire insurances. Bankassurance was a fact.
1977 - Argenta Netherlands
Argenta starts selling mortgage loans in the Netherlands.
Argenta Coöperatieve cvba was founded, and launched in 2010 and 2011 a public issue of shares to 67.000 clients and office holders. This gave Argen-co a 15% stake in Argenta.
2016 - 60 years of Argenta
Argenta celebrates its 60th anniversary, Argenta is remaining true to its historical and strong cultural values of simplicity, transparency, honesty and sustainability.
Argenta considers risk management as one of its core activities, and recognizes professional, comprehensive risk management as an essential prerequisite for achieving sustainable, profitable growth.
The strategy and long-term policy of all entities within the group are determined by the Executive Committee and Board of Directors of the parent company Argenta Bank- en Verzekeringsgroep nv. The two main subsidiaries, Argenta Spaarbank nv and its sister entity Argenta Assuranties nv, are responsible for operational management within their own areas of competence as established in the Memorandum of Internal Governance.
The Executive Committees of Argenta Spaarbank nv, Argenta Assuranties nv and Argenta Bank en Verzekeringsgroep nv are integrated, with a number of members in common: Chief Executive Officer (CEO), Chief Financial Officer (CFO) and Chief Risk Officer (CRO).
The Board of Directors has installed a structure of committees and subcommittees to address the risks which the group faces. The main committees are
the Risk Committee of the Board of Directors,
the Group Risk Committee addressing alternately economic capital, model oversight and operational risk (Orco),
the Kreco addressing retail credit risk,
the ALCO addressing asset & liability management and market risk, and
the VRC addressing insurance risk.